Westbrook Montessori Academy - Mississauga, Ontario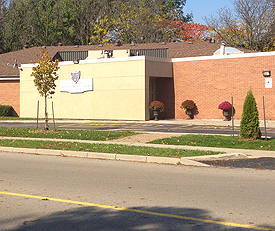 Westbrook Montessori Academy is a Mississauga Montessori School providing education based Daycare for Toddler, Preschool, and Junior/Senior Kindergarten aged children. We have over 10 years of experience providing quality care in the Mississauga area. We believe that all children possess an innate ability to learn. Our primary goal is to create a warm and caring environment for our children and provide experiences that build confidence, nurture curiosity and foster a love for learning. Westbrook Montessori offers easy access to major highways, and services the communities of Brampton, Burlington, Milton, Mississauga, and Oakville.
CDRCP - Raising the Bar in Peel
Raising the bar is a voluntary annual quality initiative for early learning and licensed child care programs. Levels of quality are achieved in three areas: Quality Assurance, Best Practices, and Professional Education.
Westbrook Montessori Academy offers the best possible education based on the Montessori philosophy. The motto of our school is "Seek to Achieve" which is used as a benchmark when engaging and inspiring students to learn. Westbrook Montessori provides plenty of opportunities for children, 18 months to 6 years of age, to practice their skills in a fun and challenging environment. The school achieves a learning environment that is conducted with love and respect for one another.
Best Montessori School in Mississauga Award Won by Westbrook Montessori Academy
Great News! Westbrook wins the Top Choice Award for 2014, 2015, and now 2016!
It is with great pleasure to announce that Westbrook Montessori Academy has once again been awarded the Top Choice Award for Best Montessori School in Mississauga for 2016.
The Top Choice Award is an annual award that recognizes the very best businesses, professionals and media, as voted for by consumers. The nomination and voting process is completely open-ended. Giving the power of choice to the only true judges of a business' products and services... its customers. Thank you for voting for us.
According to Riz Ratanshi, the director and co-founder of the school, this prestigious award is very important and will be a crucial aspect of the continued success of the school.

Top 3 Preschools in Mississauga, Ontario as listed by Three Best Rated®
Wonderful News! Westbrook Montessori Academy has been listed as one of the Top 3 Preschools in Mississauga, Ontario by ThreeBestRated.ca.
Three Best Rated® was created with a simple goal to find you the top 3 local businesses, professionals, restaurants and health care providers in your city. Their employees handpick top 3 local businesses. They check business' reputation, history, complaints, ratings, satisfaction, trust, cost, general excellence, reputation using Their 50-Point Inspection. They display only businesses that are verified by their employees. You can call it "Due Diligence." or "Common Sense." They call it "Hard Work." Their website is updated on a regular basis for quality and latest business information.
In addition, businesses do not pay them to get listed ever. They believe that local businesses provide better and personal services locally. Local businesses know your city better since they live there too. Their policy is free to list because if you can pay to list, then is it really the best business?
We are honoured for being included as one of the Top 3 Preschools in Mississauga, Ontario.

If you need assistance and require more information about our school, would like to arrange for a visit to our school, or for any other enquiries, please call us at (905) 826-4648 or click here to Contact Us and we will get back to you as soon as possible.